OBITUARY LISTINGS OCTOBER 18, 2001 MARIN INDEPENDENT-JOURNAL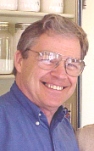 Stefan Paul Ponek, Jr.

Passed away suddenly of heart failure on October 15, 2001 at his home in Greenbrae, California. He is survived by his beloved partner, Margaret Lochran; his sister, Susan Way of Vermont; his two children, Kristin Ponek of Southern California and Seth Ponek of Sebastopol, California; his grandchildren Kyle, Gabriella and Landon Ponek, all of Sebastopol. Stefan was a long time radio personality, known well for his work at KSAN in the 60's and other popular stations in the San Francisco Bay Area. He was a general contractor and an antique radio enthusiast. Most recently, Stefan was a senior broadcast technician at S. F. City College. Stefan lived his life one day at a time. He will be greatly missed by a large fellowship of friends and family. Friends are invited to attend the Funeral Service on Saturday, October 20, 2001 at 11 a.m. at Monte's Chapel of the Hills, 330 Redhill Avenue, San Anselmo, California. A Vigil/Prayer Service will be held Friday, October 19, 2001 at 6 p.m. at Monte's Chapel of the Hills. Visitation will be at the funeral home Friday between 4 p.m. and 6 p.m. Inurnment private. Memorial gifts to Ritter House, 16 Ritter Street, San Rafael, CA 94901 preferred. Monte's Chapel of the Hills Family Owned and Operated San Anselmo 415-453-8440.
The Memorial - Vicky Cunningham
The Eulogy - Brook Jones