NEWS FLASHES
---
Stand By For...
An oral history of KMPX/KSAN is coming in 2023 from Backbeat Books!*
Check out: www.hippieradiobook.com
or
www.radioheadsthebook.com
or
www.hankrosenfeld.com
Like to contribute a story about KMPX/KSAN, 1967-1980? Send tales to astonish or just to get a giggle at: hankidu@aol.com *Book title TK -- idears welcome! Fotos, too.
---
BAY AREA RADIO HALL OF FAME SELECTS JIVE 95 ERA OF KSAN AS LEGENDARY STATION FOR 2014

The Jive 95 KSAN Reunion Concert: An Evening Of Peace, Love, And Good Vibes - BAM Magazine.com review

LInk: http://bammagazine.com/the-jive-95-ksan-reunion-concert-an-evening-of-peace-love-and-good-vibes
---
What: That Really Happened??? presents SF Radio Daze
When: Thursday June 5 - 7 PM to 10:30
Where: The Monkey House, 1638 University Ave. Berkeley - three blocks from North Berkeley Bart station
(The Monkey House is a private theatre and does not sell refreshments or alcohol, but you are welcome to bring your own.
The capacity is 54 so reservations for this event are recommended).
LInk: http://www.monkeyhousetheater.com
People who will tell stories. Norma Dale, Norman Davis, Rusty Goldman, Felton Pruit , Jerry Pompilli, Richard Gossett, Susie Davis and possibly Edward Bear
---
BENEFIT CONCERT AND KSAN REUNION LUNCHEON TO BE HELD JUNE 4th and 5th

---


The Bay Area Radio Hall Of Fame, (BARHOF), is pleased to announce the selection of KSAN Jive 95 as the BARHOF Legendary Station for 2014. KSAN is the first Legendary FM station. The period from 1968 through 1978 fueled the flames of creative freedom on the airwaves and produced some of the most incredible, inspiring, outrageous radio ever broadcast. Tom Donahue led a motley crew of radio pioneers who brought a new sound to the airways. Free form radio, long cuts, new artists and no holds barred commentary. KSAN Jive 95 proudly joins, KCBS, KGO, KFRC, KNBR and KSFO as the newest Legendary Station in the BARHOF. To learn more about KSAN, please visit: http://www.jive95.com Two events to celebrate KSAN's induction into this prestigious group of radio stations will be held in June.


A KSAN Jive 95 Reunion Concert will be held on Wednesday, June 4th, at Yoshi's in San Francisco to benefit the California Historical Radio Society and its' Bay Area Radio Hall Of Fame. The featured artists for the "KSAN Reunion Concert" will be Big Brother and the Holding Company, Country Joe McDonald, Cold Blood with Lydia Pense and special guest Rick Stevens, the Imperial Messenger Service with special guests, and others to be announced. KSAN played an important part in making these groups famous by featuring their music. A VIP Reception with the musicians will be held at 6:00 p.m. Tickets are $49 for the concert and $150 for the VIP reception and concert.


For tickets visit: http://www.yoshis.com/sanfrancisco. The VIP package includes a VIP reception with the artists, premium seating at Yoshi's, a KSAN Live Jive CD, a KSAN Reunion Poster, and a KSAN Reunion T-shirt. Then on Thursday, June 5th, at 11:30 am, the Bay Area Broadcast Legends will feature the induction of KSAN into the BARHOF and a KSAN Reunion Panel Discussion as part of its' Spring Luncheon at Spenger's in Berkeley. The panel will include Bonnie Simmons, Scoop Nisker, Terry McGovern and Norman Davis. Ben Fong-Torres will host the discussion. Tickets are $47.25 for a great lunch and once in a lifetime event. For tickets visit: http://www.broadcastlegends.com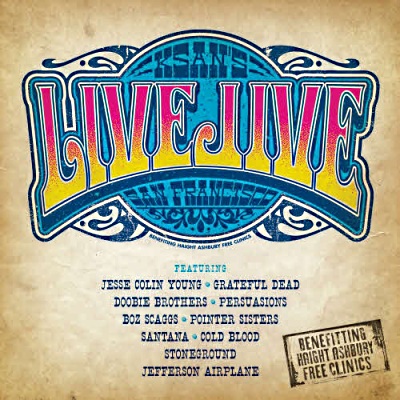 ---
LIVE JIVE!
In 1973 Kenny Wardell was DeeJaying on weekends at KSAN's old studios at 211 Sutter Street. He remembers "One afternoon KSAN General Manager Tom Donahue tossed me the key to the live music tape library and said 'Let's put together a weekend special that we'll call "Live Jive". Kenny pulled together 24 hours of some of the best KSAN live broadcasts--twelve hours for Saturday and twelve for Sunday, which he and fellow weekend DJs Ben Fong-Torres and Bobby Cole played that weekend. He kept a copy of the master tapes stored in his garage.
Forty years later he pulled them out for a listen and found they sounded incredible. He arranged to have them digitized and with the help of numerous people including several former "Jive95ers", he has produced an album of some of the best tracks, which has just been released. The album is titled, "Live Jive" and all profits go to benefit for the California
Historical Radio Society and its' Bay Area Radio Hall Of Fames. MORE INFO: http://live-jive.org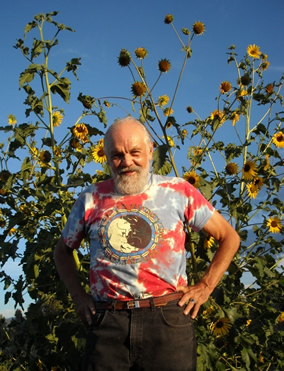 ---
NORMAN DAVIS WINS BIG IN STATE APPEALS COURT
COURT SETS HISTORIC PRECEDENT
KSAN's intrepid late night DJ for more than half a decade will be eighty in a year. But the notorious graveyard shift trouble-maker is still making headlines. The Sunday Albuquerque Journal made Norman Davis' story the top lead in its Northern Edition. Davis' small farm across the Rio Grande from Taos, New Mexico, where he has lived for the last ten years, was raided in 2006 by a joint task force out looking for marijuana plants. A black helicopter with two men in camouflage uniforms standing in the open doorway, zeroed in on Davis' greenhouse, hovering about fifty feet above for thirty minutes or so. Surrounded by men with assault rifles at the ready, who were walking around and "searching" his outbuildings, Davis agreed to sign a consent to search order.
At the hearing to allow or disallow the evidence acquired (14 plants), The Judge ruled against Davis initially. His lawyer appealed immediately and for the next five years, the case sat at the appeals court. But a recent decision by the Appeals Court thoroughly vindicates Davis and states categorically that when police invade your property without a warrant, whether by land, sea or air, and try to find evidence by spotting from helicopters, they are breaking the law by conducting an illegal search, and also ignoring the fourth amendment. Present developments in this case are reported at: LINK
---
FORMER KSAN DJ PHIL CHARLES DIES
Phil Charles, longtime general manager of KGLT-91.9 FM on the Montana State University campus in Bozeman, passed away the last week of November in his hometown, Cape May Courthouse, N.J. He was 65.
Charles grew up in radio, loving short wave as a kid. As a young adult, he worked in California at KOME and KSJO radio stations and at San Francisco's alternative, progressive FM station, KSAN, which was led in the 1970s by the legendary "Big Daddy" Tom Donahue. Frank Zappa once declared KSAN to be "the hippest station in the universe."
When he arrived at KGLT in the 1980s, Charles applied much of the KSAN open format concept to KGLT, making sure the DJs could choose their own music in diverse genres.
"Tom Donahue beat it into our heads that it was all about the listeners and not about you," Charles would say. "When you think that way, you start looking at what you can do for your audience. That's really the key; people thinking about their audience."
Now in its 46th year, KGLT still uses the open format Charles instituted.
Charles was general manager for KGLT from 1989 until his retirement in 2010. He was known for ending his broadcasts by saying, "Send my love to all." A memorial service will be held in his honor in January with information to follow from KGLT.
---
JERRY GRAHAM, FORMER KSAN MANAGER DIES
Santa Cruz, California -- Jerry Graham, who took over as manager of KSAN after Tom Donahue passed away, died of a heart attack at his home in Santa Cruz on April 29, one day before his 79th birthday. Graham had some very large shoes to fill when he replaced Donahue, who had become a larger-than-life icon before he died in 1975. Graham's tenure at KSAN was short, lasting about two years. He then became a television personality, hosting Pacific Currents on KPIX, reporting news on KRON-TV and then producing and hosting KRON's award winning series, Bay Area Backroads, which lasted 28 years. He authored several books based on his tv series and later became a columnist for the Santa Cruz Sentinel. more
DR. HIP EXPECTING AT 77
Our favorite doctor, Eugene Schoenfeld, known as Dr. Hip when he was dispensing controversial medical advice on KSAN, has made local headlines by becoming an expectant father at the age of 77. "I'm very happy and looking forward to having this child," he told a reporter. He and his 28-year-old wife Lonie are expecting the child in May. They think it's a girl. Dr. Schoenfeld has a son from an earlier marriage. More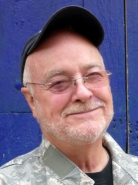 BOB SIMMONS MAKES THE TIMES
The New York Times recently published a long article by Bob Simmons on his days with the East Village Other, a now legendary magazine which featured mind-blowing articles and "underground" comics among other innovations. Read it here.
Also, be sure to visit his website:http://www.telebob.org
"Hello. Welcome to my gallery of video and photography…. as well as a few random thoughts, links, and quotes."
CATHY ROY PUBLISHED
Cathy Roy has written a little piece about meeting Henry Miller when she was 17 back in the 70s. Read the story athttp://www.biostories.com/

SUSIE DAVIS OFFICIALLY FAMOUS
Susie Davis reports that she is officially "famous" after she popped up in a Pacific Sun Cartoon.
"I used to be a headline, but now I'm just Old News " . . . Lloyd Jones